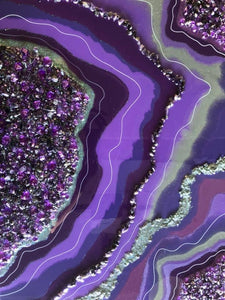 Please note that your are purchasing paintings that I will be making custom for you.  The pieces will be as similiar as possible to the pictures.  I need a two week turnaround to make this for you.  
Beautiful Purple Painting filled with Amethyst crystals.  
 Amethyst relieves stress and strain, soothes irritability, balances mood swings, dispels anger, rage, fear and anxiety. Alleviates sadness and grief, and dissolves negativity. Amethyst activates spiritual awareness, opens intuition and enhances psychic abilities.