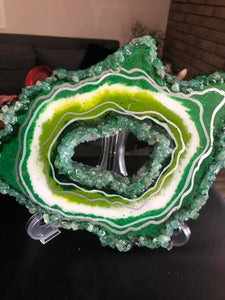 Please note that your are purchasing a geode that I will be making custom for you.  The pieces will be as similiar as possible to the pictures.  I need a two week turnaround to make this for you.  
Beautiful Free form Geode.  Made from Wood - 14" long and 6" wide.  Hollow in the middle.  Filled with Green Aventurine Crystals - Can be displayed on easel or on wall with a hook.  
Green Aventurine is an all-around healing stone with benefits for the lungs, liver, sinuses, and heart. Use Green Aventurine to loosen and release negativity and energy blockages, including disease. Some wear or carry Green Aventurine to increase intelligence, perception and creativity.