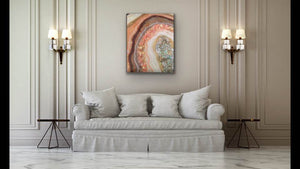 Please note that your are purchasing a painting that I will be making custom for you.  The pieces will be as similiar as possible to the pictures.  I need a two week turnaround to make this for you.  
Beautiful Coral colored resin geode painting.  Measures 24"x36" Filled with clear quartz crystals.  On Canvas and ready to hang with picture wire. 
Quartz is the most powerful healing stone of the mineral kingdom, able to work on any condition. Clear Quartz is known as the stone of power and amplifies any energy or intention. Clear Quartz protects against negativity, attunes to your higher self, and relieves pain.